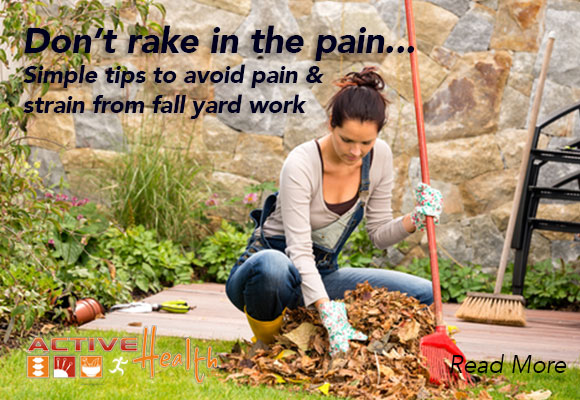 Take these precautions to avoid pain from yard work this fall
For those who are unaccustomed to manual labor, routine yard work such as raking leaves, can cause upper or lower back strain, neck strain and pain in the shoulders. Avoid this unnecessary pain by taking these simple precautions to help prevent unnecessary pain and strain:
Wear supportive shoes. Good foot and arch support can prevent some back strain.
Maintain good posture when rake or mow.
If it's already gotten chilly outside, warm up a bit first with a brisk jog or stretching exercises.
Don't underestimate the need to hydrate.
When raking, use a "scissors" stance: right foot forward and left foot back for a few minutes, then reverse, putting your left foot forward and right foot back.
Bend at the knees, not the waist, as you pick up yard equipment or piles of leaves or grass from the grass catcher. Make the piles small to decrease the possibility of back strain.
Wear a hat to keep unwanted pests out of your hair, glasses or sunglasses to avoid flying debris and gloves to protect your hands from cuts, scratches and blisters.
If you have asthma or allergies, wear a mask, or better yet, hire someone else.
The chiropractors at Active Health, Dr. Panopoulos and Dr. Stasinos believe in a holistic approach to wellness. Their chiropractic clinic, located in Park Ridge, IL, also features acupuncture, weight loss and nutrition, holistic medicine and physical therapy to relieve pain, nurture a patient back to health and prevent future health issues. To schedule an appointment, please visit our website at https://activehlth.com or call 847-739-3120 now.