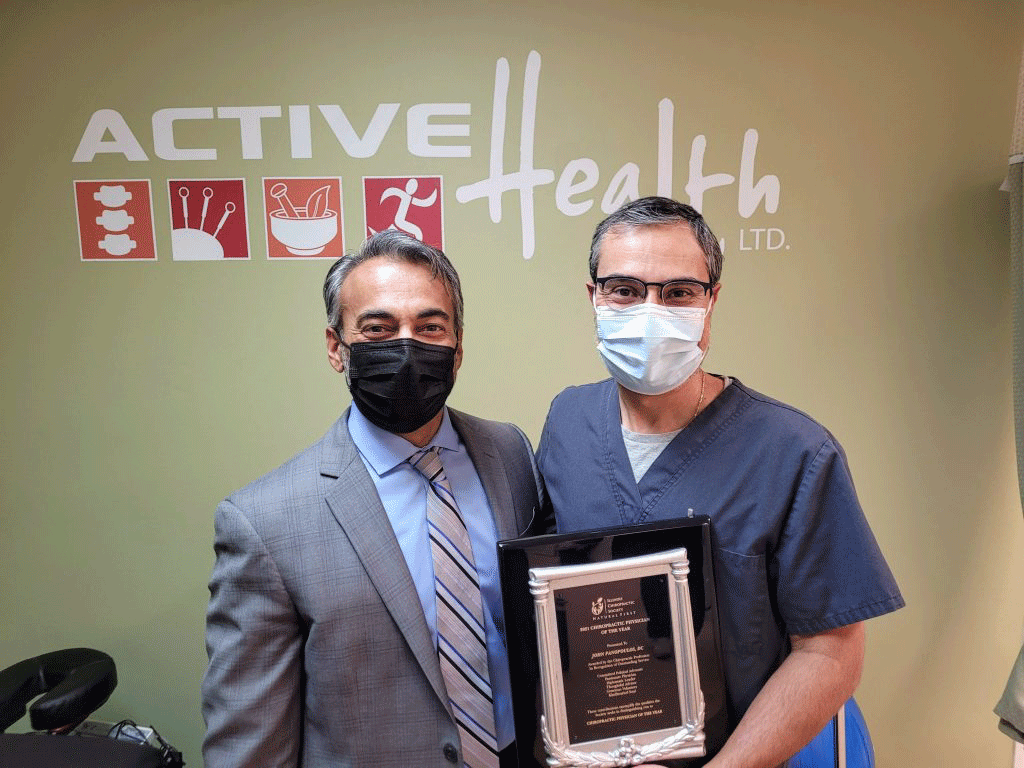 The 2021 ICS Chiropractic Physician of the year awarded to Dr. John Panopolous by the Illinois Chiropractic Society President, Dr. Vijay Patel.
Dr. John Panopoulos has consistently advocated both locally and nationally for the advancement of the Chiropractic profession on behalf of doctors and patients. He has been an integral part of the advancement of chiropractic care in Illinois through his work with the ICS as a member of their Board of Directors and as President from 2019 to 2020. As recognition for his continued outstanding work and compassionate care, the Illinois Chiropractic Society has selected Dr. Panopoulos as the 2021 ICS Chiropractic Physician of the Year.
During his tenure as President of the ICS, Dr. Panopoulos was key to providing guidance to his colleagues during these difficult pandemic years. He has also generously shared his knowledge with colleagues as a continuing education instructor.
Dr. John Panopoulos grew up on the northwest side of Chicago where he attended nearby St. Patrick High School. After graduation, he completed his Bachelor of Science in Biology from the University of Illinois at Chicago in 1992. Dr. Panopoulos later attended the National College of Chiropractic in Lombard, Illinois; there he received a Bachelor of Science degree in Human Biology, and Doctorate of Chiropractic Medicine.
The doctor is a member of the American Chiropractic Association, Illinois Chiropractic Society and Chicago Chiropractic Society. Dr. Panopoulos has been elected by his peers to represent them as Director at Large to the Executive Board of the Illinois Chiropractic Society 2010-present, Treasurer of the Illinois Chiropractic Society PAC 2009-present, Vice President of the Illinois Chiropractic Society – Chicago District 2008-2010.
Make an appointment to get started today!